INA crossed roller bearings SX series are suitable, due to their high running accuracy, as bearings for high precision applications (such as those in robots, machine tools, handling systems, precision mechanical and medical devices, vehicle components). INA crossed roller bearings correspond in their main dimensions to the ISO dimension series 18 with very small section height.
INA crossed roller bearings can support axial forces in both directions, radial loads, tilting moments and any combination of loads. These INA bearings usually allow designs with two bearing positions to be replaced by one bearing position.
INA crossed roller bearings are very rigid (they can be supplied with normal clearance, clearance-free or preloaded), and suitable for compressive and suspended arrangements. INA crossed roller bearings are always a good choice for a technically and economically leading bearing solution if compact and easy-to-fit rolling bearings with high tilting moment carrying capacity and rigidity, with uniform running free from stick-slip, low rotational resistance as well as high axial and radial runout accuracy are required in only one bearing position.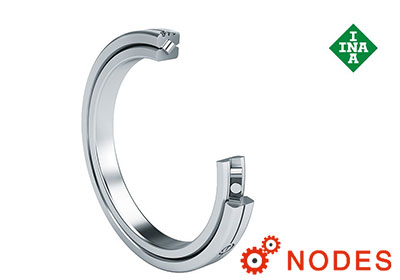 ---
related articles
oterh articles about INA roller bearings