Generally, SKF spherical roller thrust bearings can be lubricated with oil or grease containing EP additives.
Where lubricating with grease, the roller end / flange contacts must be supplied with an adequate amount of grease. Make sure to use a grease with high oil bleeding, such as SKF LGWM 1, LGWM 2 or LGEP 2
Pumping effect in oil lubricated applications
Pumping effect in vertical shaft application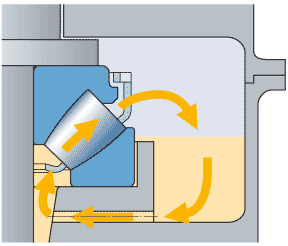 Pumping effect in horizontal shaft application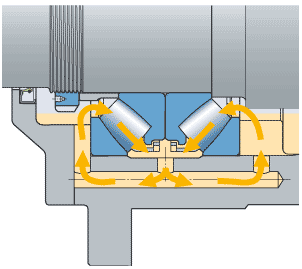 The internal design of spherical roller thrust bearings creates a pumping action, which produces a flow from the small to the large roller end face, that can be taken advantage of in oil lubricated applications. This pumping action occurs in applications where the shaft is vertical or horizontal and should be considered when selecting the type of lubricant and sealing arrangement.
Oil injection lubrication method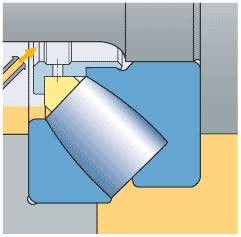 For bearings with a machined cage used in high-speed applications, SKF recommends the oil injection lubrication method.
---