SKF PTFE polyamide bushings provide maintenance-free, dry sliding operation and are designed for applications where other polymer bushings might fail prematurely. These thin-walled bushings promote heat dissipation, enabling high sliding velocities. SKF offers a standard assortment of both straight and flanged PTFE polyamide bushings. Advantages of these bushings include:
maintenance-free operation
cost-effective
corrosion-resistant
electrical insulator
Cost-effective; self-lubricating and maintenance-free; designed for dry operations, however, a lubricant can improve the performance; available in metric sizes as straight or flanged bushings.
SKF PTFE polyamide bushings are suitable for applications where cost-effective maintenance-free bushings are preferred. Application area examples for these bushings are:
textile machinery
medical equipment
fitness equipment
household equipment
SKF PTFE polyamide bushings material
SKF PTFE polyamide bushings are made from a glass-fibre reinforced thermoplastic that contains PTFE. The material mix enables these self-lubricating, wear-resistant bushings to accommodate moderate loads.
SKF PTFE polyamide bushings lubrication
SKF PTFE polyamide bushings are designed for dry operation. A lubricant can, however, improve the performance of these bushings. With an adequate supply of grease, oil, water or other liquid, the operating speed of these bushings can be increased. SKF PTFE polyamide bushings are resistant to most lubricating oils and greases.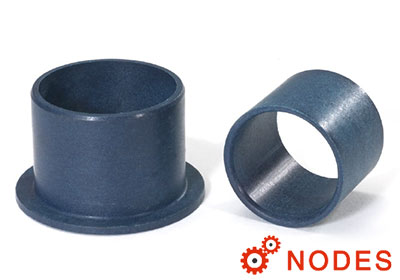 SKF PTFE polyamide bushings are available both as straight and flanged bushings.
Characteristics
Permissible load (dyn/stat), N/mm2: 40 / 80
Permissible sliding velocity, m/s: 1,0
Friction coefficient m: 0,06 .. 0,15
Temperature range, °C: –30 .. +110
Application recommendations
Shaft tolerance: h8 – h9
Housing tolerance: H7
Shaft roughness Ra, mm: 0 .. 0,8
Shaft hardness, HB: 100 – 300
related articles
Related products