SKF PTFE composite bushings are the maintenance-free solution for heavy load/medium speed applications. SKF offers a wide range of both straight and flanged PTFE composite bushings. Advantages of these bushings include:
maintenance-free operation
very good frictional properties
high load carrying capacity
high operating temperatures
high sliding velocity
small operating clearance
Straight bushings are manufactured to dimensions in accordance with ISO 3547-1.
SKF PTFE composite bushings are suitable for applications where a sliding material with self lubricating properties is a prerequisite. Application area examples for these bushings are:
automotive
material handling equipment
home appliances and consumer goods
textile machinery
SKF PTFE composite bushings material
SKF PTFE composite plain bearings combine the mechanical strength of steel with the low friction of a PTFE-based self-lubricating lead-free sliding layer. The intermediate layer of porous tin bronze creates a strong bond between the backing and sliding surfaces and also improves the dissipation of heat generated during operation. To protect the bearings from corrosion, the steel backing is tin-plated. With the exception of the sliding surface, PTFE composite dry sliding bearings can be machined. Calibration is possible within certain limits.
SKF PTFE composite bushings lubrication
The PTFE-based sliding surface permits smooth, low-friction operation without lubrication. During a short running-in phase, there will be some transfer of PTFE material from the sliding contact surface to the counterface. After this transfer, the characteristic low friction and wear properties of these bearings will be achieved.
The presence, or continuous supply of oil or other non-corrosive fluids may be advantageous and improve the performance of these bearings.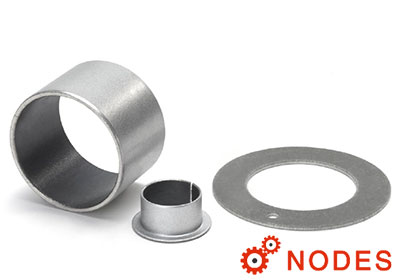 SKF PTFE composite plain bearings are available, both as straight and flanged bushings, washers and strips.
SKF bush bearings Characteristics
Permissible load (dyn/stat), N/mm2: 80 (v ≤ 0,02) / 250
Permissible sliding velocity, m/s: 2,0 (p ≤ 1,0)1)
Friction coefficient m: 0,03 .. 0,25
Temperature range, °C: –200 .. +250
Application recommendations
Shaft tolerance: f7 – h8
Housing tolerance: H7
Shaft roughness Ra, mm: 0 .. 0,4
Shaft hardness, HB: 300 – 600
related articles
Related numbers
Related products