A characteristic feature of SKF steel/steel radial spherical plain bearings is the outer ring, which is intentionally fractured so that it can be sprung apart to enable the inner ring to be inserted . The SKF bearings are therefore nonseparable and easy to handle.
The SKF bearings are manganese phosphated and the sliding contact surface is then treated with a running-in lubricant. This reduces friction and wear during the running-in period. To facilitate lubrication, all bearings, with the exception of some small sizes, have an annular groove and two lubrication holes in both the inner and outer rings. Metric bearings with an outside diameter D >= 150 mm also have the SKF multigroove system in the outer ring sliding contact surface as standard. Upon request, SKF can also supply smaller metric and inch size bearings with the multigroove system.
With the multi-groove system, SKF solved the problem of lubricant starvation in steel/steel bearings. Lubricant starvation is a common cause of premature bearing failure in applications where minor alignment movements are made under heavy, constant direction loads.
The multi-groove system improves lubricant distribution in the heavily loaded zone to extend bearing service life and/or maintenance intervals.
The dimensions of SKF spherical plain bearings in the GE, GEH and GEG series are in accordance with ISO 12240-1:1998.
SKF bearings in the GEM series, which have an extended inner ring, have a non-standard inner ring width, but otherwise have the same dimensions as GE series bearings.
Inch SKF spherical plain bearings in the GEZ series are in accordance with the American Standard ANSI/ABMA Std. 22.2-1988.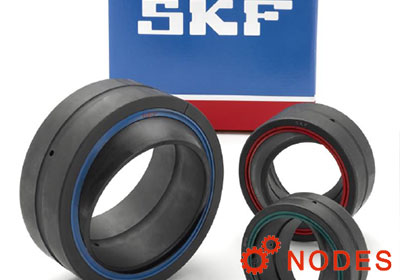 SKF radial spherical plain bearings requiring maintenance
related articles
Related numbers
Related products