SKF thrust spherical plain bearings have a convex spherical surface on the shaft washer and a corresponding concave spherical surface in the housing washer. They are intended to accommodate primarily axial loads but can also accommodate combined (radial and axial) loads. The radial load component of a combined load should not exceed 50% of the axial load component. When radial loads are larger, it is advisable to combine thrust bearings with radial bearings in the GE dimension series. Thrust spherical plain bearings are separable, e.g. shaft and housing washers can be mounted separately.
GX..F: Open (without seals); self-lubricating capability; factory greased; does not require relubrication, however, relubrication can extend bearing service life; available in metric sizes
GXD..TX: Open (without seals), high performance bearing with self-lubricating sliding surface; available in metric sizes
GXD..SA: Open (without seals), multi-groove system, can be relubricated via lubrication holes and an annular groove in the housing washer; available in metric sizes
SKF manufactures thrust spherical plain bearings with the maintenance-free steel/ PTFE FRP (fibre reinforced polymer containing PTFE) sliding contact surface combination as standard. Other sliding surface combinations are available on request.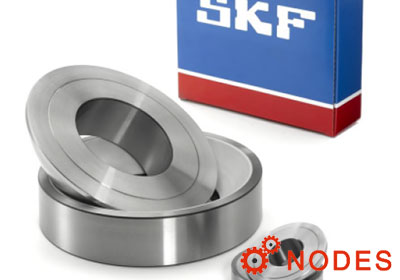 SKF thrust spherical plain bearings
Related products