Kaydon BB Metric Series four-point contact ball bearings are dimensionally interchangeable with cross-roller bearings.
KAYDON BB Series Bearings Are Available to Match the Bores and Widths of Common Cross-Roller Bearings.
When factors such as cost, availability, corrosion resistance, tighter tolerances, torque, seal/shield options, and temperature resistance are important in your application, it pays to consider BB Series four-point contact metric ball bearings as an alternative to cross-roller bearings. The additional design flexibility they offer can often help you achieve your design objectives with optimum performance and economy.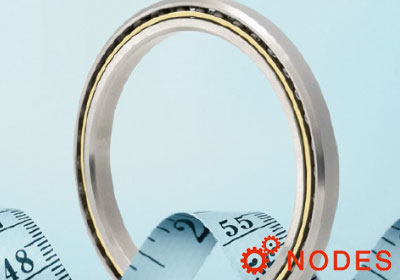 Additional features not commonly available in standard crossroller bearings include a protective package for corrosion resistance, custom sealing for extreme environments, application-specific lubrication and temperature capability.
Optimize Your Design Options
With additional features not commonly available in standard cross-roller bearings, BB Series bearings provide greater design flexibility.
Endurakote Plating—For applications requiring superior corrosion resistance we offer our proprietary Endurakote plating. This thin, dense chrome plating gives AISI 52100 bearing material corrosion resistance equal to or better than that of AISI 440C stainless steel. Unlike many traditional chrome platings, the extremely hard surface of Endurakote plating doesn't peel and flake from the bearing race under stress, so corrosion resistance is retained and surface wear is minimized. The performance of Endurakote plating has been proven in critical military, aerospace, and deep space applications.
Seals/Shields—Standard industry seals are generally available from nitrile rubber. Kaydon can also provide custom seals manufactured from silicone or Viton® materials for applications where high temperature or extreme environments are likely to be encountered.
Temperature Capability—Standard cross-roller bearings have a maximum full capacity operating temperature of only 212°F. In contrast, Kaydon bearings can operate at higher temperatures due to our heat treating procedures.
Lubrication Options—Kaydon offers a full range of lubricants, allowing you to optimize bearing performance in a range of applications with special requirements for moisture resistance, hot or cold temperatures, vacuum, and low torque.
Separators—The common roller spacer for many cross-roller bearings is a non-metallic composite. High temperature and/or horizontal axis applications, however, require non-standard materials or a non-standard separator design. Kaydon four-point contact ball bearings are available with separator options to meet a wide range of applications.
Internal Fitup—Kaydon can help you optimize internal fitup of our BB Series four-point contact ball bearings to provide the desired operating performance. Pre-loaded bearings are recommended for greater stiffness, and diametral clearance is recommended for lower torque applications.
Related products