Kaydon's KH series precision slewing ring bearings are designed to provide precise positioning with consistent repeatability, in applications where rotation is constant, intermittent or oscillating. KH slewing rings offer a wide variety of solutions for advanced rotary index tables or any design where the bearing will mesh with other precision mechanical components.
The internal configuration is a deep groove gothic arch raceway, which provides four points of contact with the balls, enabling it to carry radial, moment, and thrust loads individually or simultaneously. The use of internal diametral preload provides for greater stiffness, which combined with tightly controlled radial and axial runouts, delivers accurate repeatability. The axial runouts are 0.001 inches TIR and the radial runouts for locating diameters are 0.002 inches TIR. A separator is used to maintain consistent ball spacing interval, keep friction to a minimum, and minimize noise. Integral face riding seals are provided to assist in the exclusion of contaminants.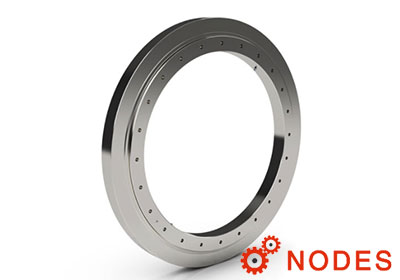 Kaydon's KH series precision slewing bearings
KH series precision KAYDONG slewing bearings are offered in nongeared and externally geared configurations. The gears have full depth involute teeth and are manufactured to an AGMA Class Q8 quality, allowing for decreased backlash, more accurate positioning, and less noise while operating.
KH series slewing ring bearings have been used successfully in applications demanding higher precision, including:
Precision rotary index tables
Radar antennas
Satellite antennas
Robots
Medical systems and medical devices
Machine tool tables
Any design where the KH bearing will interface with other precision components
Related products