Kaydon RK series slewing ring bearings provide a wide variety of solutions for applications where a large diameter and lighter weight are key. RK series slewing rings have a flanged cross-section on one or both rings that reduces weight and provides the equipment designer with Kaydon's unique flexibility, accommodating various configurations of adjacent mounting structures and bolting arrangements.
The internal configuration of Kaydon RK series slewing bearing is a deep-groove gothic arch raceway, which provides four points of contact with the balls, enabling the bearing to simultaneously carry radial, axial, and moment loads. The use of spacer balls alternated with load balls allows for lower rotational torque and superior performance in applications involving oscillatory movement. Integral face riding bearing seals are provided to assist in the exclusion of contaminants.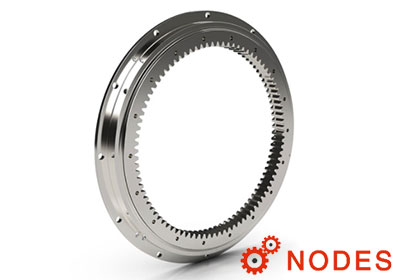 Kaydon RK series slewing bearings are offered in nongeared, internally geared, and externally geared configurations for maximum design flexibility. The gears are involute stub designs with 20° pressure angles, manufactured to AGMA Class Q5 quality and 0.005 to 0.015 inches allowance for backlash. RK series turntable bearings range in size from 20–47 inches OD (500–1200 mm OD).
As a Kaydon bearing distributor, Nodes bearing have RK series Kaydong slewing bearings available from stock.
Kaydon RK series slewing bearing applications
RK series slewing ring bearing solutions have been used successfully in a variety of light- to medium-duty applications including:
Small cranes, booms, and lifts
Industrial positioners and rotary tables
Chute swivels
Stretch wrapping machines
Bottle filling machines
Conveyors and related material handling equipment
Rotating displays
related articles
Related products