Kaydon HS series slewing bearings are similar in size to the RK slewing bearings. Kaydon's HS series slewing ring bearings have rectangular cross sections that provide approximately twice the load capacity (moment ratings up to 139,900 ft-lbs) in the same envelope. HS series bearings provide a wide variety of solutions for medium- to heavy-duty applications.
The internal configuration consists of a rectangular cross section with deep groove gothic arch raceways and maximum ball complement. This results in a four-point contact design that provides exceptional moment, thrust, and radial load capacities.
The HS and RK series Kaydon slewing bearings share the same pinion, gear, and race core hardness. However, the HS slewing ring features reduced clearance and rectangular sections that provide additional capacity, greater stiffness, and less movement than the RK series. HS slewing ring bearings range in size from 20" to 47" (500 mm to 1,200 mm) OD with a standard cross section. Configurations include non-geared and internal geared (with fittings on the outer diameter), and external geared (fittings on the inner diameter). The gears are Involute Stub designs with 20° pressure angles, manufactured to AGMA Class Q5 and .015" to .025" allowance for backlash.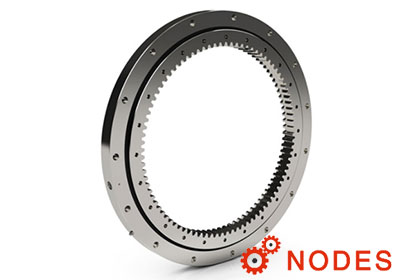 Kaydon HS series slewing bearings
Kaydon's HS slewing ring bearings feature two fittings for lubrication, spaced 180° apart. Geared races have tapped holes, while non-geared races have through holes. All have integral seals designed to protect against contamination.
Kaydon's HS slewing ring bearings provide a variety of solutions for medium- to heavy-duty applications including:
Cranes
Aerial lifts
Digger derricks
Chute swivels
Lift truck rotators
Industrial turntables
related articles
Related products