Kaydon HT series slewing ring bearings are larger versions of the HS series slewing bearings, with increased ball diameter and cross-sectional area providing substantially more capacity. HT series slewing bearings provide a wide variety of solutions for a variety of medium- to heavy-duty applications.
The internal configuration consists of deep groove gothic arch raceways and maximum ball complement. This results in a four-point contact design that provides exceptional moment, thrust, and radial load capacities. Integral seals are provided to assist in the exclusion of contaminants.
Geared rings have tapped holes, while non-geared rings have through holes. HT series Kaydon slewing bearings are available in internal geared, external geared, and nongeared configurations. The gears are involute stub designs with 20° pressure angles, manufactured to AGMA Class Q5 and 0.015 to 0.025 inches allowance for backlash. They range in size from 36‐66 inches OD (900‐1700 mm OD) with a standard cross section.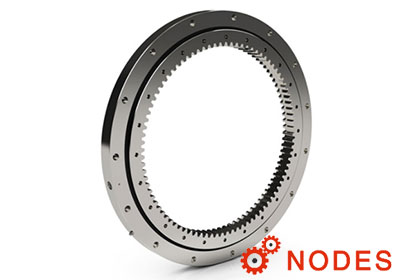 Kaydon HT series slewing bearings
HT series bearings have been used successfully in a variety of medium- to heavy-duty applications including:
Cranes
Aerial lifts
Digger derricks
Chute swivels
Lift truck rotators
Industrial turntables
related articles
Related products