Kaydon's MT series heavy duty slewing ring bearings offer a wide variety of solutions for applications such as truck mounted cranes, hoists, and non-precision industrial tables and positioners, providing optimal economy and capacity for a given envelope dimension.
MT Series kaydong slewing ring bearings have a rectangular cross-section and range in size from 4–47 inches OD (100–1200 mm). The internal configuration consists of deep groove gothic arch raceways and maximum ball complement. This results in a four-point contact design that provides exceptional moment, thrust, and radial load capacities. Integral face riding seals for the larger sizes, and non-contact shields for the smaller, assist in the exclusion of contaminants. These features make MT series heavy duty slewing rings an ideal choice for a wide range of applications from light to heavy duty.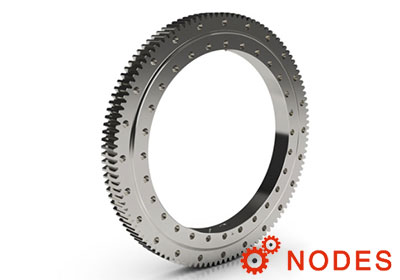 Kaydon's MT series slewing bearings
MT series slewing ring bearings are offered in nongeared (MTO) and externally geared (MTE) configurations. The gears are Fellows Stub Involute up to the MTE-324 size and Stub Involute for larger sizes, all manufactured to AGMA Class Q6 quality. MT series slewing bearings feature ball pitch diameters from 9" to 40" and moment load ratings up to 870,000 ft.-lbs.
MT series slewing ring bearings have been used successfully in a wide range of applications from light to heavy duty. The smaller sizes are well suited for:
Manipulators
Jib cranes
Lift-assist devices
Work positioners
Larger sizes are well suited for:
Truck-mounted cranes
Aerial lifts
Hoists
Small wind turbines
Non-precision positioning tables
related articles
Related products